New England Chapter presents the Harold Murphy Honor to Bill Brooks December 5, 2017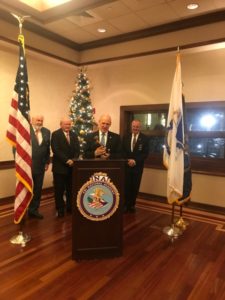 Bill Brooks (center) accepting the Harold Murphy Honor, December 5, 2017 from Harold Murphy (second from left)) for whom the Honor is named. The presentation was made at the December meeting of the FBI National Academy Associates of New England held at a banquet facility in Burlington, Massachusetts.
The New England Chapter proudly presented the Harold Murphy Honor to recognize the outstanding professional accomplishments of Norwood, Massachusetts Chief of Police William G. Brooks III, FBI NAA session 175 and his continuing support, participation and leadership skills. The presentation was made on December 5, 2017 at the annual Christmas Holidays party attended by New England Chapter members as well as special guests of the FBI Boston Division Special Agent in Charge Harold H. Shaw .
Bill Brooks was only the second recipient of the Harold Murphy Honor, named in recognition of the selfless service and professional accomplishments of the current New England Chapter historian and active member Harold X. Murphy Jr., FBI NAA session 142.
Bill made an upbeat and positive acceptance speech recognizing the importance of his family's support as well as being proud of working alongside so many successful Police Officers, Agents and law enforcement team members during his 40 years of service which is continuing. Bill described that he was humbled to be recognized with this honor by his professional colleagues, especially since Harold Murphy has become a close personal friend and continues to be acknowledged as a mentor to so many local and national law enforcement professional leaders.
Bill recalled the success of the 2010 FBI NAA National Conference in Boston and proudly recognized members within the New England Chapter who made that training event memorable for so many of the attendees that year. Bill described the many committees working together as a tribute to the personal and professional values of the membership which continue to support the FBI National Academy Credo of Knowledge, Courage and Integrity.
The incoming FBI NAA New England Chapter officers were also sworn into office and continue to promote, support and develop training topics for the benefit of the members as well as the New England area law enforcement partnerships.